The Emerging and Sustainable Cities Program (ESC) is the IDB's non-reimbursable technical assistance program providing direct support to national and subnational governments in the development and execution of city Action Plans.
ESC employs a multidisciplinary approach to identify, organize and prioritize urban interventions to tackle the main roadblocks that prevent the sustainable growth of emerging cities in Latin America and the Caribbean. This transversal approach is based on three pillars:
environmental and climate change sustainability;
urban sustainability;
fiscal sustainability and governance.
Urbanization in Latin America
Latin America and the Caribbean is the second-most urbanized region in the planet with 8 out of 10 people living in cities. Between 1950 and 2014, the region urbanized at an unprecedented rate, raising its urban population (as per cent of total) from 50 per cent to 80 per cent; a figure that is expected to climb to 86 per cent by 2050.
Over the past two decades, the region's urban population and economic growth has been increasingly taking place in intermediate- sized cities, which are expanding exponentially.
ESC's Methodology is organized in a two-stage, five phase process.
Stage one begins by executing a rapid diagnostic tool to identify the sustainability challenges of a city. Afterwards, topics (i.e. water, air quality, transparency, etc.) are prioritized through the use multiple filters – environmental, economic, public opinion and sector specialist expertise – to identify issues that pose the greatest challenges in a city's pathway towards sustainability. Finally, an Action Plan is formulated, containing prioritized interventions and a set of strategies for their execution across the short-, medium- and long-term.
In stage two, the execution phase begins with the preparation of pre-investment studies for prioritized interventions and the implementation of a citizen monitoring system.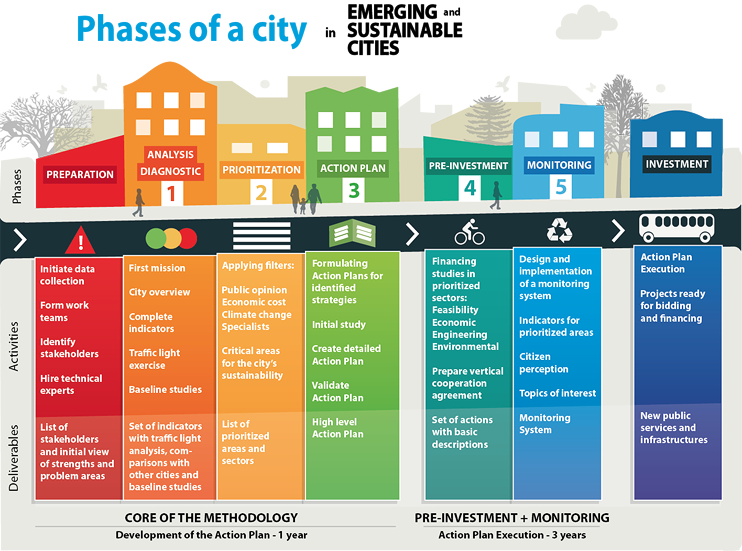 Emerging cities in Latin America and the Caribbean need planning processes that are specific and action-oriented—capable of bringing about quality of life for citizens in the region. ESC's Methodology is based on the premise that urban development strategies that are well-planned, integrated, and cross-sectoral, can ensure improvements in the quality of life for citizens and help materialize a more sustainable, resilient, and inclusive future for emerging cities in Latin America and the Caribbean.
More recently, the Program has been working on strengthening the ESC Methodology by including topics related to local economic development, competitiveness and productive employment creation. The proposed methodological adjustment stipulates a new set of 10 topics, 15 subtopics and 17 indicators. In addition, the updated methodological framework recommends three new additional base studies on economic development, adding another 23 indicators. This update will facilitate a more robust analysis of the local economy of ESC cities, enabling the Program to better identify strategies for promoting sustainable and equitable economic development at the city level. ESC is currently carrying out pilot exercises to evaluate the robustness and applicability of the proposal in Quetzaltenango, Guatemala and San José, Costa Rica.
ESC Methodology documents are available in english, spanish and portuguese:
| | | |
| --- | --- | --- |
| Methodological Guide EN PDF | Annex: Indicators EN PDF | Guía Metodológica ES PDF |
| Anexo Indicadores ES PDF | Filtro Económico ES  PDF | Anexo Competitividad PDF |
| Guia Metodológico PT PDF | Anexo: Indicadores PT PDF | Filtro econômico PT PDF |
 ToR Climate Change and Urban Development Studies (EN)
 ToR Walkability Bikeability (EN)
 ToR Public Opinion Survey (ES)
 Annex - Inclusion of 'Sustainability and Cities' in Country Strategies (ES)