READ ABOUT THE PROJECTS OF THE IDB GROUP'S INSTITUTIONS
QUICK REFERENCE INFORMATION
CASE UPDATES

On October 29th, 2019, the IDB Invest Board of Executive Directors approved the Recommendation and Terms of Reference for a Compliance Review regarding the "Ituango Hydropower Plant Project" (11794-04). The investigation will start once the two experts who will form the Compliance Review Panel are selected. For more information on the Terms of Reference approved and follow the case, access the Registry File.

On August 23rd, 2019, the MICI Director determined that the Request is eligible as it does meet the eligibility criteria established in the MICI Policy. For more information, please visit the public registry.

On July 31, MICI ended the management of a complaint related to the Reventazón Hydroelectric Project in Costa Rica, once the commitments agreed between the Parties were fully implemented. The agreement mainly established the construction of a rainwater collection and storage system for animal watering and irrigation, the main means of subsistence for the family.
OTHER NEWS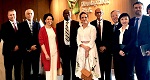 In May 2019, MICI participated in various dissemination activities between peer organizations in China. The meetings included presentations to the Asian Infrastructure Investment Bank (AIIB) and the participation in the Regional Workshop on the development of Environmental and Social Compliance and Accountability Mechanism Framework for Financial Intermediaries.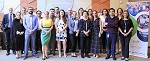 The MICI External Consultative Group (GCE, for its initials in Spanish) held its first face-to-face meeting of 2019, which culminates in the two-year cycle initially planned for the first generation of members of this group.

Fifteen experts on issues associated with social and environmental conflict, transparency and conflict resolution from international organizations, civil society organizations, academia and former public officials of Ecuador participated in a working breakfast organized by MICI.