READ ABOUT THE PROJECTS OF THE IDB GROUP'S INSTITUTIONS
QUICK REFERENCE INFORMATION
CASE UPDATES

On August 30, 018, the Costa Rican Electricity Institute (ICE), the Requesters and IDB Management agreed on a work plan that operationalizes the commitments signed on April 12, during MICI's Consultation Phase Process. The work plan was the result of a day of joint reflection among the Parties, facilitated by the MICI team. This document details the general conditions and other technical aspects of the construction works aimed at restoring access to water for animal troughs and irrigation for the property owned by the Requesters. This document also contains an estimated schedule of activities that must be carried out by all Parties to the process. The MICI will continue accompanying the Parties during the implementation of the Agreement and during the execution of the work plan.

On August 6, 2018, the MICI received a complaint related to two projects financed by IDB Invest: "Generadora San Mateo SA" (GU3794A-01) and "Generadora San Andrés SA" (GU3798A-01) from residents of Northern Guatemala. This complaint was registered on August 13, 2018. For more information, access the registry file.
On June 11, 2018, MICI received a complaint related to two technical cooperations financed by the IDB: "Isolated Indigenous Peoples Reservations Regularization Project" (PE-T1258) and "Isolated Indigenous Peoples Reservations Regularization" (PE-T1276) from the Inter-ethnic Association for the Development of the Peruvian Amazon (AIDESEP) representing the Peoples in Isolation and Initial Contact (PIIC). This complaint was registered on June 18th. For further information, access the Registry File.
OTHER NEWS

Monday September 24th, 2018, Buenos Aires, Argentina. As part of MICI´s mandate to promote access to the non-judicial complaint process provided by the Mechanism, MICI's director Victoria Márquez-Mees alongside Gastón Aín and Martin Packmann, held a working breakfast with conflict resolution experts from federal and local governmental institutions, academia and civil society organizations.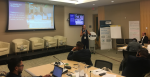 MICI participated in the VI Regional Policy Dialogue on Environmental Permitting and Compliance in the Caribbean and Latin America hosted by the Inter-American Development Bank's Environmental and Social Safeguards Unit (IDB-ESG) from September 11-13, 2018.
On September 5 and 7, the MICI organized 4 webex video sessions to promote better understanding amongst IADB Group staff members of its dispute resolution process, the Consultation Phase. The sessions were presented in the 4 official IDB languages and acted as a follow-up to the introductory seminar presented earlier this year. The objective of the sessions is to inform about the accountability function of the IDB Group and its complaint management processes. Close to 200 IDB staff members participated in these sessions.