Gender Perspective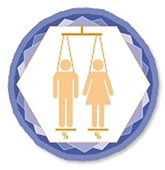 A major portion of inequalities in Latin America and the Caribbean are related to inequality of opportunity, which is in turn affected by innate characteristics such as race, place of birth, educational level of the parents, and gender.
Gender equality is not only a human right, but also an economic issue. Bringing half of the human capital in the region to reach its full potential would significantly improve quality of life.
Latin America and the Caribbean have advanced considerably in the so-called "first generation" gender issues. Big challenges remain, however, in gender issues of "second generation". The IDB gender agenda puts an emphasis on those challenges.
"First generation" gender issues

"Second generation" gender issues

· Access to education

· Maternal mortality

· Infant mortality of girls

· Economic empowerment of women

· Violence against women

· Teenager pregnancy

· Women participation in decision making
Urban areas provide opportunity for employment, access to social services, and better housing conditions. In that sense, Urban Development and Housing assumes a socio-spatial perspective to understand inequality. How can we promote gender equality from urban planning?
Women Forge a Future for Apartadó