Preventing the intergenerational transmission of poverty. Conditional Cash Transfers.
Conditional Cash Transfers (CCTs) are targeted transfer programs aimed at reducing current poverty -- through monetary transfers -- and at contributing to breaking the intergenerational transmission of poverty, by encouraging behaviors that promote human capital accumulation of beneficiaries. By linking transfers to human capital accumulation, these programs support the development of self-sufficiency in beneficiaries' households, and will help the children of poor households to escape poverty in a sustainable way.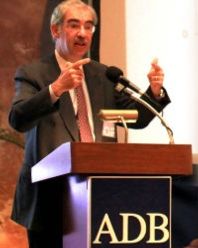 On October 19, 2012, in Manila, the IDB Vice President for Sectors and Knowledge shared insights on Latin America's experiences in CCTs and their relevance for Asia-Pacific at the ADB Eminent Speakers Forum event on The Role of Social Protection in Advancing Inclusive Growth.
Details and a podcast of the presentationare available here.
IDB and ADB also organized a South-South Learning Event on Conditional Cash Transfers to share LAC's experiences in the design and implementation of CCTs. The event, which was held in April 2013, brought together representatives from planning, finance, labor, and social welfare ministries and national CCT programs from 12 countries in Asia and the Pacific, as well as ADB staff. The program included three full days of presentations and discussions and a one-day field visit to selected sites that are part of the Philippines' national CCT program, Pantawid Pamilya. The presentations are available through the interactive event program.
Cooperation in this area recently culminated in the publication of Conditions for Success in Implementing CCT Programs: Lessons for Asia from Latin America and the Caribbean.