High Level Economic Policy Forum
The ADB and IDB are providing a venue to bring together leading economic policy-makers from across the Pacific to share experiences and exchange knowledge on emerging development issues, discuss topics and policy options, and forge cooperation.
Asia – Latin America: New Engines of Growth of the Global Economy?, the first forum to discuss the deepening South-South links between the two regions with an audience of policy-makers, private sector leaders and economic experts, took place on October 13, 2012 at the Asian Development Bank Institute (ADBI) in Tokyo, with the collaboration of the Policy Research Institute of Japan's Finance Ministry.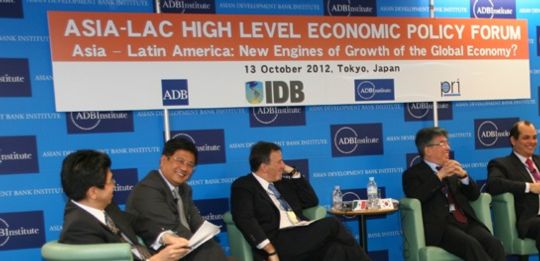 Available documents:
Opening remarks were given by the IDB and ADB Presidents, who stressed the need to improve trade and investment between the two regions by addressing trade-related infrastructure and logistics and removing barriers to trade. Panelists included Finance Ministers and Central Bank Governors. The Dean of the ADBI gave concluding remarks. Forum participants emphasized trade and free trade agreements, connectivity including customs cooperation, mutual learning, and policy dialogue as key ingredients to seize the moment for Asia and LAC cooperation and integration.
Related: Customs cooperation stressed on the occasion of the IMF World Bank Annual Meeting in Tokyo