Research
The MIF carries out and commissions research on key trends, innovative approaches and individual behaviors in different forms of payments and transfers. In the field of remittances it has financed more than 50 surveys among people who send or receive money transfers in source and beneficiary countries, and studies on the characteristics of markets and remittances corridors.
The MIF's annual map of remittances estimates has become a point of reference for the money transfer industry as well as for academia and the media. Studies have focused on the potential of remittances-linked financial products and services.
Events
Seminar: Fiscal Sustainability and Tax Reform in Latin America

Nov 28, 2016. 1330 New York Ave., NW, Washington, DC - Room CR2, United States

Finance, Fintech and the Future of Banking in the Caribbean Basin

Oct 4, 2016. Washington, DC, OAS Main building - 17th St. , United States

Lanzamiento del Informe - Remesas e Inclusión Financiera: Análisis de una encuesta de migrantes de América Latina y el Caribe en España

Sep 21, 2016. Madrid, United States
Highlighted Event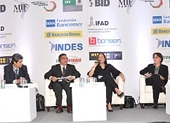 The MIF organizes conferences such as RemesAmericas to convene leaders from regulating agencies, money transfer companies, banks, microfinance institutions, technology companies, migrant associations and other stakeholders. Besides disseminating new ideas and promoting best practices, these forums offer participants opportunities to make contacts and establish strategic alliances.