Remittances
Remittances, the international money transfers made by expatriate workers to their home countries, are estimated at around $300 billion a year worldwide. Latin American and Caribbean migrants sent close to $60 billion to their region in 2009, according to the IDB's Multilateral Investment Fund (MIF).
A decade ago the MIF uncovered the true magnitude of remittances, which had long been relegated to the "errors and omissions" column of balance of payments records. Beyond measuring these massive flows, the MIF saw remittances as a potential key to "banking the unbanked" as most of these transfers involved poor people traditionally excluded from formal financial systems.
Remittances fit into a broader MIF agenda to promote financial inclusion through different types of payments and transfers, including mobile domestic payments and conditional cash transfers, in order to expand access to financial services tailored to the needs of the poor. To pursue that larger goal, the MIF funds projects and research, provides advisory services and organizes events to disseminate new ideas on how remittances can become a tool to overcome poverty.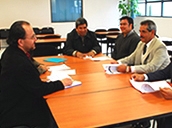 A key part of the MIF's work involves providing policy advice to national governments, regulating agencies and financial industry groups on leveraging payments and transfers to expand poor people's access to formal financial products and services.
By the numbers

Every year Latin American and Caribbean migrants make about 250 million separate money transfers to their home countries.
News
Remittances to Latin America and the Caribbean in 2014 surpassed $65 billion, topping 2008 record. Flows to Mexico increased 8 percent. May 12, 2015

The 2013 Report on Remittances to the Region shows increases to Central America and the Caribbean, decreases to Mexico and the Caribbean. Jun 10, 2014
How Can You Print a Building?

Enrico Dini, inventor of 3-D printing, was one of the guest speakers at Demand #Solutions, an IDB sponsored event highlighting ideas for a better quality of life.

How Can You Print a Building?

(22:52)
Envía Centro America
"Envía Centro America" provides data and information on sending relatively small amounts of money to Central America. It covers flows from several main sending areas in the U.S., including Costa Rica, El Salvador, Guatemala, Honduras, Nicaragua, Panama, and the Dominican Republic. Data is also collected for two of the most relevant intra-regional corridors, as well as remittances sent from Costa Rica to Nicaragua.
Go to tool>>
Events
Seminar: Fiscal Sustainability and Tax Reform in Latin America

Nov 28, 2016. 1330 New York Ave., NW, Washington, DC - Room CR2, United States

Finance, Fintech and the Future of Banking in the Caribbean Basin

Oct 4, 2016. Washington, DC, OAS Main building - 17th St. , United States

Lanzamiento del Informe - Remesas e Inclusión Financiera: Análisis de una encuesta de migrantes de América Latina y el Caribe en España

Sep 21, 2016. Madrid, United States
Highlighted Event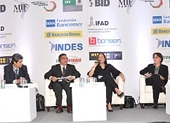 The MIF organizes conferences such as RemesAmericas to convene leaders from regulating agencies, money transfer companies, banks, microfinance institutions, technology companies, migrant associations and other stakeholders. Besides disseminating new ideas and promoting best practices, these forums offer participants opportunities to make contacts and establish strategic alliances.