Remittances in Latin America by the Numbers

Every year Latin American and Caribbean migrants make about 250 million separate money transfers to their home countries. While the average amount sent is around $300, taken in total these remittances by far outstrip all sources of foreign aid to the region. In several countries they constitute more than 10 percent of GDP.
---

Since the MIF started raising awareness of the true volume of remittances, the cost of money transfers to the region has dropped from as high as 20% in 2000 to an average 5.5% in 2010. By disseminating information about this market and stoking competition among service providers, the MIF contributed to the declining trend, helping migrants and their families save billions of dollars in fees.
---

Banking the unbanked remains an unfinished task in Latin America and the Caribbean, where only one in 10 poor households has access to savings accounts or other basic financial services. A majority of the people who receive remittances are not part of formal financial systems, even though most of them regularly pick up their transfers at banks.
Events
Seminar: Fiscal Sustainability and Tax Reform in Latin America

Nov 28, 2016. 1330 New York Ave., NW, Washington, DC - Room CR2, United States

Finance, Fintech and the Future of Banking in the Caribbean Basin

Oct 4, 2016. Washington, DC, OAS Main building - 17th St. , United States

Lanzamiento del Informe - Remesas e Inclusión Financiera: Análisis de una encuesta de migrantes de América Latina y el Caribe en España

Sep 21, 2016. Madrid, United States
Highlighted Event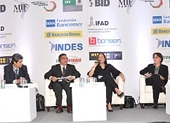 The MIF organizes conferences such as RemesAmericas to convene leaders from regulating agencies, money transfer companies, banks, microfinance institutions, technology companies, migrant associations and other stakeholders. Besides disseminating new ideas and promoting best practices, these forums offer participants opportunities to make contacts and establish strategic alliances.