Advisory Services
A key part of the MIF's work involves providing policy advice to national governments, regulating agencies and financial industry groups on leveraging payments and transfers to expand poor people's access to formal financial products and services.
Over the past decade the MIF worked with central banks in Latin America and the Caribbean to improve and standardize the reporting of remittances. The MIF has also advised several countries in this region on the implementation of recommendations stemming from the General Principles for International Remittances Services.
Events
Seminar: Fiscal Sustainability and Tax Reform in Latin America

Nov 28, 2016. 1330 New York Ave., NW, Washington, DC - Room CR2, United States

Finance, Fintech and the Future of Banking in the Caribbean Basin

Oct 4, 2016. Washington, DC, OAS Main building - 17th St. , United States

Lanzamiento del Informe - Remesas e Inclusión Financiera: Análisis de una encuesta de migrantes de América Latina y el Caribe en España

Sep 21, 2016. Madrid, United States
Highlighted Event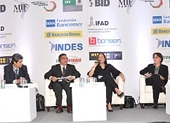 The MIF organizes conferences such as RemesAmericas to convene leaders from regulating agencies, money transfer companies, banks, microfinance institutions, technology companies, migrant associations and other stakeholders. Besides disseminating new ideas and promoting best practices, these forums offer participants opportunities to make contacts and establish strategic alliances.