The IDB and Korea will drive projects at labor in Latin America and the Caribbean

Both parties have signed a Memorandum of Understanding during the Regional Policy Dialogue on Labor that is taking place this week in Seoul (Korea)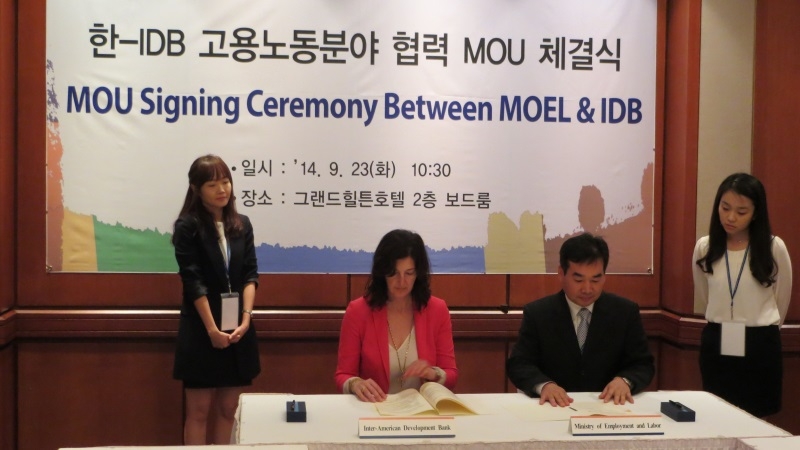 Seoul, September 23th 2014.
Korea will strengthen the ties of cooperation with Latin America and the Caribbean thanks to a Memorandum of Understanding with the IDB signed this Tuesday in Seoul, Korea. The aim of this agreement is to promote labor policies as a key factor for the development of the region.
Thanks to this MOU, the IDB and Korea will jointly promote projects in the areas of vocational training, skills development, labor market and employment information systems and social protection systems, among others. This agreement will also facilitate the exchange of knowledge between Korea and the countries of the region, as well as the consulting on the design, management and monitoring of employment policies and the use of new technologies in the labor market systems.
The agreement was signed during the fourth Regional Labor and Social Security Policy Dialogue that is being celebrated this week in Seoul, with the participation of vice ministers and top officials from 18 governments of Latin America and the Caribbean. The purpose of this high-level meeting is to share experiences and learn about the organization and functioning of the Korean labor policies, that contributed to its "economical miracle" that turned this country into one of the 10 world powers in less than 40 years.
On behalf of the Ministry of Labor of the Republic of Korea, the agreement was signed by Mr. Jong Chul Hwang, Director of the Division of International Cooperation. On the other hand, Ms. Carmen Pagés-Serra, Head of the Labor Markets and Social Security Unit represented the IDB in the signature. The MOU has an initial term of 3 years which may be extended by mutual agreement.