The Future of Pensions in Latin America and the Caribbean
---

How to increase coverage and ensure sustainability?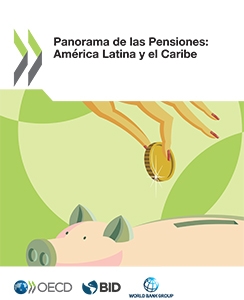 The Organisation for Economic Co-operation and Development (OECD) and the Inter-American Development Bank (IDB) organize a special roundtable discussion, marking the launch of 'Pensions at a Glance: Latin America and the Caribbean', a joint publication of the OECD, the World Bank (WB) and the IDB. The event will take place on Monday, April 20th from 9:00 to 11:30am at the IDB´s Enrique Iglesias Auditorium (1350 New York Avenue, NW, Washington DC 20577).
The event will be opened by Ángel Gurría,Secretary-General of the OECD and Luis Alberto Moreno, President of the IDB.
Gabriela Frías (Business anchor for CNN) will moderate a panel discussion with the following participants:
Andrés Escobar (Technical Deputy Minister of Finance and Public Credit, Colombia),
Magdalena Lizardo (Director for Economic and Social Analysis Advisory Unit, MEPYD, Dominican Republic),
Marlon Tabora (President of the Central Bank and Head of Economic Cabinet, Honduras),
Santiago Levy (Vice-President for Sectors and Knowledge at the IDB),
Stefano Scarpetta (Director for Employment, Labor and Social Affairs at the OECD) and
Arup Banerji (Senior Director and Head of Global Practice - Social Protection and Labor, at the World Bank).
Today, nearly 23 million people over 65 in Latin America and the Caribbean do not receive a pension financed by their own contributions, but in the absence of reforms, and due to a rapidly aging population, this number will skyrocket in the coming decades. By2050, between 66 and 83 million people 65 and older may not have a contributory pension. How should pension systems be reformed to ensure greater coverage? High-level policy makers will discuss these challengesand different policy approaches to pension reform in the region.
To attend the launch, please email us at Pensions-at-a-Glance@iadb.org
Download your free copy of the book.