Promoting labor mobility within the Pacific Alliance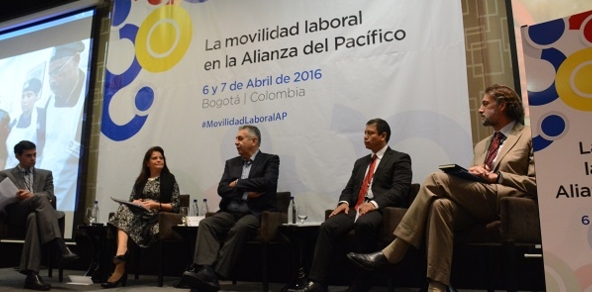 Can labor mobility foster the Pacific Alliance's objectives of greater integration, development and competitiveness? The four countries that constitute the Alliance (Chile, Colombia, Mexico and Peru) met in Bogota on April the 6th and 7th at the event 'Labor mobility within the Pacific Alliance' to discuss how the labor mobility's management could go beyond the prevention of irregular migration, being framed within a perspective of employment and human capital development. In particular, the participants discussed the role of Public Employment Services to ensure that labor migration benefits workers and their families, businesses as well as sending and receiving countries (the so-called "triple win").
The event gathered the ministers, deputy ministers and directors of Public Employment Services of member countries of the Pacific Alliance, as well as entrepreneurs and national and international experts who analyzed how the collaboration of public and private sector is key for effective management of labor mobility. During his speech, the Minister of Labor of Colombia, Luis Eduardo Garzón, presented labor mobility as an opportunity for enhancing the human capital of the four countries. The Minister of Labor of Peru, Daniel Maurate, stressed that the Pacific Alliance does not have a technical group on issues of Labor and Employmentas yet and called for its creation. This group would be responsible, among other tasks, to promote effective labor mobility within the framework of the Alliance.
In the same context, Undersecretary of Employment and Labor Productivity of Mexico, Flora Patricia Martínez Cranss, showed successful experiences in the management of international labor mobility that Mexico have been developing with other countries. The Director of the National Training and Employment Service of Chile (SENCE), Pedro Goic, explained that his country seeks to recognize migration as a source of employment opportunities and as a tool to boost productivity and competitiveness. Finally, the president of the National Business Association of Colombia (ANDI), Bruce Mac Master, stressed that labor mobility generates "a lot of opportunities for workers, so they can go to places with high demand for skills and opportunities, but also for companies and sectors that need talent that has been properly prepared in other economies".
Following some international experiences, the event analyzed four success factors that allow each country to provide comprehensive support (before, during and after their working life in another country) to both migrants and businesses. The recommendations of this meeting, jointly organized by the Pacific Alliance, the ANDI and the Integration and Trade Sector and the Labor Markets Division of the IDB, will be presented in the XI Presidential Summit of the Pacific Alliance to be held on 1 July in Puerto Varas, Chile, to guide the effective management of labor mobility between these four countries over the next three years.