Korea deepens ties with Latin America and the Caribbean to strengthen employment policies

The "Employment Insurance" and the integration of active and passive labor policies, among central elements of the agenda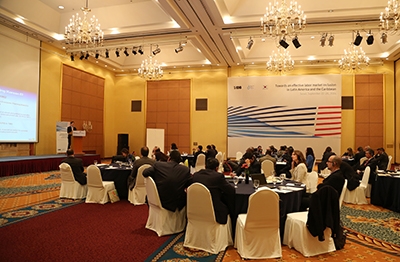 Seoul, September 25, 2014.
27 vice-ministers and top officials from 18 Latin American and Caribbean countries participated today in the Regional Policy Dialogue on Labor and Social Security in Seoul (South Korea). The purpose of this meeting is to understand the labor policies of Korea, which played a key role in their "economic miracle". In just over 34 years, Korea managed to rise from the ashes of a civil war and multiply its per-capita income by a hundred, becoming one of the leading economic powers in the world. Furthermore, labor policies designed to guarantee a well-prepared workforce and promote the human-resource development have been fundamental elements of this successful economic strategy.
This fourth edition of the Regional Dialogue, organized by the Inter-American Development Bank, focuses on policies to promote effective labor inclusion in Latin America and the Caribbean. To this end, 18 countries are discussing, inter alia, the operation of the Korean Employment Service, which integrates in one location (Job Centers) job placement services, job counseling, and training programs for the unemployed. The Job Centers also manage the so-called "Employment Insurance" which, unlike other subsidies in other countries, is strongly focused on the rapid and effective reintegration of workers who lose their jobs through employment services and training programs.
In the days leading up to this Dialogue, through presentations and study visits, participants also became familiar with the various institutions of the Ministry of Labor, such as Job Centers, the Information Service of the Labor Market (KEIS), the GIFTS institute for transferring skills, and Job World. These visits offered an overall perspective of the Korean integrated system in order for participating countries to deepen the aspects that are most relevant to their own employment policies.
Memorandum of Understanding between the IDB and Korea
During the Dialogue, on Tuesday 23, the IDB and the Government of Korea signed a Memorandum of Understanding to boost joint programs to promote the exchange of experiences and knowledge to respective sides of the Pacific between Korea and Latin America and the Caribbean. The agreement has a term of three years, renewable by mutual agreement.