Health: Deworming in Haiti
Breaking the poverty cycle just takes a few cents
In Haiti, the IDB and its partners integrate health, water and sanitation to fight intestinal parasites and other Neglected Infectious Diseases.
Ever since the devastating earthquake struck in 2010, Haiti has been facing several major public health problems that have made international headlines: from a cholera outbreak to the spread of lymphatic filariasis, also known as elephantiasis, in different areas of the country.
However, another silent disease is afflicting Haitians beneath the radar of the international media. A disease that is quickly transmitted through contaminated soil and food and that affects two of the most vulnerable groups in the population: children and pregnant women. Its name is geohelminthiasis or intestinal parasites, and it is thought to affect several million people in the country
"Intestinal parasites have a huge impact on people's health. They prevent children from absorbing nutrients, causing anemia and malnutrition" said Ferdinando Regalia, Chief of the Social Protection and Health Division at the Inter-American Development Bank (IDB). "Over the medium-term, parasites affect cognitive development and school performance; and ultimately, they keep people trapped in a vicious cycle of disease, low human capital accumulation and low capacity to generate future earnings.
"Preliminary surveys conducted in Haiti estimate that nearly 3 million people may be infected by geohelminthiasis. To alleviate this situation, the IDB is implementing several projects through the Neglected Tropical Diseases Initiative that integrate prevention and preventive treatment campaigns with improvements in the water supply and sanitation services in Port-au-Prince, Artibonite and several other cities.
Several partners have stepped up to the plate to support these projects, including the PepsiCo Foundation and the University of Notre Dame. The projects are being developed in coordination with the Pan American Health Organization, the Sabin Vaccine Institute, UNICEF, the Red Cross, CDC and USAID.
These projects enabled the mass distribution of albendazole, an anti-parasite drug, to the entire affected population, greatly reducing the number of infections. This medicine is both very inexpensive (each pill costs US$ 0,02) and safe; it does not cause any significant side effects. In fact, according to studies, preventive treatments for intestinal helminthiasis are one of the most cost-effective public health interventions.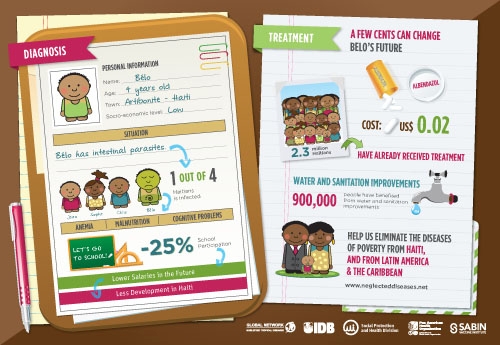 It is estimated that deworming increases school participation by 25%; and according to the World Health Organization, deworming children is an effective strategy that can help achieve the Millennium Development Goals, including the goal of universal primary education.
Thanks to these projects, almost all of the eligible population has been treated in the targetted areas. In total, more than 15 million albendazole tablets have been distributed; and 92.5% of the population of Port-au-Prince has been covered. In other cities, coverage rates are as high as 97.8%. In total, more than 2.3 million people have already been treated, and the incidence of this disease among the poorest people in this Caribbean country has been significantly reduced.