Thematic Workshops
LAC Debt Group holds seminars and workshops aimed at fostering the sharing of experiences and know-how among public debt managers and privilege technical discussions involving a broad group of debt management analysts that deal with back, middle and front-office issues. Workshops are held once a year in Washington D.C. and include a variety of topics of interest for debt managers.
Information and materials related to previous Thematic Workshops could be found below.
Event in Focus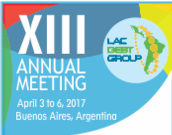 This Annual Meeting is jointly organized by the Ministry of Finance of Argentina and the Inter-American Development Bank. The meetings of the Group provide the main venues for debt managers of the region to share experiences and discuss new developments in public debt management.