Events
LAC Debt Group promotes the exchange of experiences and information that will lead to greater transparency, coordination, and integration of the Debt Management Offices (DMOs) of participating countries. The Group serves as a technical and policy discussion forum for discussing state-of-the-art issues and attempting to fashion common views.
In addition to offering a year-round possibility for exchange, the Group holds two meetings per year:
Annual Meetings, which serve as the principal venue for the exchange of experiences and knowledge on public debt management practices.
Thematic Workshops, which serve as forums of discussion on the topics identified by members
These meetings aim to (i) contribute for the integration of Debt Management Offices (DMO's) of participating countries; (ii) create technical discussion forums, covering topics of general interest to debt offices in the region (back, middle and front-office issues); (iii) allow for debates on the current and potential analytical debt management tools in use by the debt offices; and (iv) create a favorable environment for the development of research on the wide array of topics related to public debt management.
Event in Focus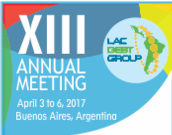 This Annual Meeting is jointly organized by the Ministry of Finance of Argentina and the Inter-American Development Bank. The meetings of the Group provide the main venues for debt managers of the region to share experiences and discuss new developments in public debt management.