Annual Meetings
LAC Debt Group holds its Annual Meeting in one of the Group's member countries. This official gathering is a forum for discussion among the debt management specialists of each of the members countries of the Group, most of whom are Director of Public Debt, Director of Central Banks, or other high level authorities of the member countries. Representatives of non-member countries, multilateral financial institutions, development agencies, and private banks also attend. The Annual Meeting is the principal venue for the exchange of experiences and knowledge on public debt management practices in Latin America and the Caribbean.
Participation at the Annual Meeting is by invitation. The list of special guests from each member country of the IDB and non-member countries, including private sector organizations, banks, and associations, is prepared according to internal procedures established for that purpose and must be approved by the respective country authorities. The list for each country is updated yearly to include requests received after the previous Annual Meeting.
Email: LACDEBTGRP@iadb.org
Event in Focus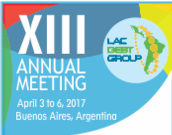 This Annual Meeting is jointly organized by the Ministry of Finance of Argentina and the Inter-American Development Bank. The meetings of the Group provide the main venues for debt managers of the region to share experiences and discuss new developments in public debt management.