Projects and Markets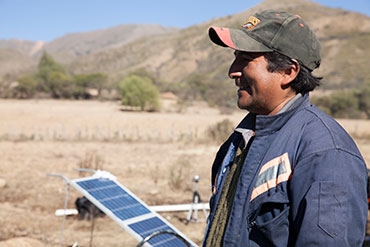 This IDB project in Bolivia provided solar technology to help Jaime power his farm.
Our goal is to provide open access to actionable information that helps stakeholders facilitate the development of projects. This will provide stakeholders with a new starting point to make decisions about sustainable energy in the region. Currently, this page will focus on present IDB operations, but in the future, it will be representative of many other project profiles and opportunities from throughout the region.
Energy Access
Energy Efficiency:

Renewable Energy:

Smartphone application for project opportunities with the IDB private sector division
The IDB finances development projects in its 26 borrowing countries in Latin America and the Caribbean, generating between 20,000 and 30,000 contract opportunities for businesses and consultants from all member countries each year.The Inter-American Development Bank's IDB Business free mobile application allows users to quickly access its portfolio of projects.