Without Data, There is No Action
Regional Project on Child Development Indicators, PRIDI
Author: Aimee Verdisco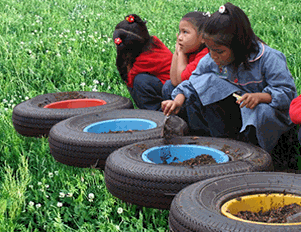 What if countries knew that their children were at risk for not developing the basic skills and competencies they need to be successful in school and throughout life?

Would more attention be paid to issues of early childhood development (ECD)?
Would better quality programs for young children be designed and targeted at the most vulnerable populations?
Chances are the answer would be yes on all accounts, at least according to other regional assessments.
Consider these examples: one out of every three children in third grade does not understand the phrase "once upon a time;" roughly half of all third graders cannot solve a math problem involving halves and quarters; and about 44% of all sixth graders are unable to identify the physical state of substances. Since today's knowledge economy demands mastery of basic skills in reading, math, and science, results such as these from the Second Regional Comparative and Explanatory Study (SERCE) have abruptly forced ministries and societies throughout the Region into taking meaningful action. New policies focused on extended school days (Uruguay, Argentina), improving teacher preparation (Peru, Jamaica), professionalization of teaching as a career (Brazil, Trinidad and Tobago), mandatory preschool (Mexico, Argentina), closer coordination of preschool with first grade (Paraguay), and many others, have emerged as urgent responses aimed at improving the quality of education received by children.
ECD could be the next frontier. As demonstrated widely, returns on investment are highest when quality programs target the youngest children. These children may reap the benefits of this investment over the entire course of their lives. ECD is a powerful policy lever used to level the playing field for children, particularly those from poorer backgrounds. Quality ECD programs have been proven to mitigate or compensate for observed gaps in domains amenable to change and aggravated by poverty, such as cognition, parenting skills, and behavioral problems. Hence it comes as little surprise that SERCE data also indicate that children who have benefitted from at least one year of preschool prior to first grade perform better on standardized tests in primary education. Results from the Programme for International Student Assessment (PISA) tests send the same message: 15 year-olds who received some level of preschool score higher.
While countries place more policy and programmatic emphasis on ECD, few tools exist to facilitate systematic monitoring of and regional benchmarking for the development of children prior to starting their formal schooling. Yet, as experience with learning and quality in the Region illustrates, much can be learned from regional policy dialogue and comparison. The Bank's Regional Project on Child Development Outcomes Indicators (Programa Regional de Indicadores de Desarrollo Infantil), or PRIDI, hopes to provide a platform for this to take place.

Regionally Comparative Data

Launched in December of 2009, and inspired by experiences in the Region with comparative measurements of learning, PRIDI will provide high quality, policy-relevant, and regionally comparative data on the situation of young children and their families. These data will allow countries to benchmark progress on child development both within their borders and Region-wide, thus facilitating policy dialogue between governments on how to best address the needs of young children and their families. Participating countries include Argentina, Costa Rica, Ecuador, Nicaragua, Peru, and Paraguay.
PRIDI is small and modest in scope. Yet it is expected to grow and become more inclusive. Experience has shown that dialogue, debate, and comparison such assessments tend to boost the credibility and use of the data generated. In turn, the data and the assessment exercises themselves evolve into important policy tools for measuring the quality of services provided and their impact. At each step along the way, e.g., in the Trends in International Reading Literacy Study (TIMSS), Progress in International Reading Literacy Study (PIRLS), Latin American Laboratory for Assessment of the Quality of Education (LLECE), SERCE, and PISA, adjustments in methods were made, institutional capacities for the collection and analysis of data were strengthened, and more governments participated. Notably, almost every country participated in SERCE.
Participation in international assessments (TIMSS, PIRLS, and PISA) currently stands at ten, up from just one a decade ago. Participation in most of these efforts currently receives funding from national budgets and the data collected are used to monitor national plans and strategies for education. Since the Region has learned from its experiences in assessment and has institutionalized the need for reliable data on achievement, it is hoped that the efforts begun in this endeavor will follow a path similar to those more generally observed in education assessments.