Kids to count on: Little mathematicians in Paraguay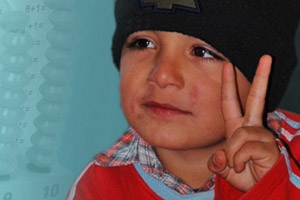 If you heard a news report about mounting evidence of the importance of preschool math education, would you picture five-year-olds at desks cramming number tables? Would you wonder whether preschool math education might deprive kids of their childhood? Perhaps. But, if done right, math for preschoolers is all about developing curiosity and interest in math and paving the way for future learning. By understanding spatial relations—such as over and under; sequencing, such as first and last; simple measurement, such as shorter and longer—and by being able to organize objects by size shape and color, kids will later be ready to grasp the meaning of centimeters, kilograms, maps, graphs, and diagrams.
To find out what works in preschool math education in the region, the IDB is supporting the development and testing of different approaches to preschool math. In Paraguay, children in the department of Cordillera participate in a project called Tikichuela: Mathematics in My School. Beyond fostering pre-math skills in general, the Tikichuela project sets out to close gaps in learning between students in urban and rural areas, multigrade and single-grade classrooms, different socioeconomic groups, and different schools within local education networks. To bridge gaps in teachers' knowledge, interactive audio programs are used to bring math to preschool classrooms.
After only five months, the program produced a 9.2 percent increase in math learning, compared with the results of students not in the program. The achievement gap between low- and average-performing students (those in the bottom third) and high performers (in the top third) decreased by 7.5 percent. In other words, the program was able to target those needing the most remedial work in mathematics.
We hope that the successful experience of Tikichuela children can inspire educators and policy makers to explore ways to bring math to preschoolers across Latin America and the Caribbean.
The Tikichuela program is the result of a partnership among the Ministry of Education, Education Development Center (EDC), Innovations for Poverty Action (IPA) and the IDB.
Find out more about the results of the first evaluation of the Tikichuela program The Making of Little Mathematicians: Fostering Early Math Understanding in Paraguay