Agriculture and Climate Change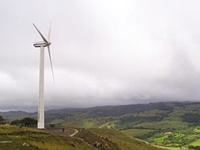 In December 2010, more than 30 experts on climate change in Latin America and the Caribbean met at the IDB's headquarters in Washington D.C. to discuss national and regional efforts to develop appropriate strategies for mitigation and adaptation to climate change.
In terms of mitigation, the symposium identified two potential ways the IDB can start supporting a reduction in emissions from the sector:
a) Foster the development of a market for "low carbon" agricultural products.
b) Promote large scale adoption of low carbon agricultural practices, based on scientific methods to reduce emissions and increase carbon sequestration.
In terms of adaptation, participants concluded that the agricultural sector in the region is among the most likely to be affected by climate change and increased climate variability. Participants agreed that adaptation requirements are very location specific, and appropriate adaptation strategies must be developed for specific agriculture and ecological regions based on the nature of their vulnerability and adaptive capacity.
The IDB will be supporting vulnerability assessments in agriculture and identifying priorities for public policy and investment to increase the climate resilience of the agricultural sector in Latin American and the Caribbean.