Potential C2F Project: Energy Efficiency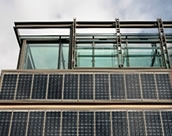 Overview
A hotel or manufacturing plant is considering installing advanced energy efficiency systems, either:

Retrofitting/replacing equipment before its lifetime; or
Building a new facility that is implementing energy efficiency above and beyond business as usual.


Cost Barriers
The payback of the projects is beyond the company's two year payback benchmark for capital improvement investments.
C2F Solution
The Canadian Climate Fund can provide debt for the cost of the systems at theinterestrate needed to increase the project's return to the company's hurdle rate for these investments.