Jennifer Nelson, MPH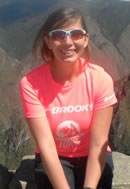 Jennifer Nelson, MPH, is the Technical Officer of the Salud Mesoamérica 2015 Initiative (SM2015) based in the Panama Country Office of the Inter-American Development Bank (IDB). Jennifer has worked with SM2015 since 2010, serving on various country teams, and currently leads the regional Policy Dialogue and Learning components of the SM2015, in addition to the regional and country level Dashboards, which assist with program monitoring and health information system strengthening.
Prior to the SM2015, Jennifer worked in the design and roll-out of the Neglected Tropical Diseases Trust Fund within the IDB and has worked and conducted research in public health in Africa, LAC, and USA with Case Western Reserve University, the Pan-American Health Organization, and the Cleveland Department of Public Health. Jennifer has a Masters of Public Health focusing in International Health and Health Policy and Management, and a Bachelors' degree in Economics, Public Health and Spanish from Case Western Reserve University. She is also an avid trail and endurance runner.