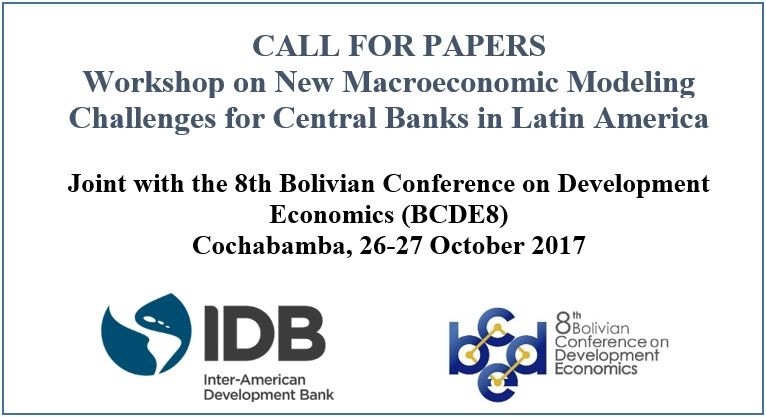 Workshop on New Macroeconomic Modeling Challenges for Central Banks in Latin America
Joint with the 8th Bolivian Conference on Development Economics (BCDE8)
Cochabamba, 26-27 October 2017
CALL FOR PAPERS (for FSD members only) - DEADLINE 31 AUG 2017
The IDB's Financial Stability and Development (FSD) network of South American Central Banks is pleased to announce an internal call for papers within the central banks member of the FSD for a workshop on New Macroeconomic Modeling Challenges for Central Banks in Latin America.
As developed economies recover slowly from a long period of depressed aggregate demand and China's growth continues to slow down, emerging economies in Latin America are preparing their policy toolbox to address vulnerabilities from this changing environment. The rebalancing of economic growth across emerging and developed economies might trigger a new wave of capital flows reversals, exchange rate devaluations, tighter financial conditions, and persistently low levels of commodity prices, posing new challenges for monetary policy authorities across emerging economies. Furthermore, domestic vulnerabilities might also put pressure on monetary policy as persistent fiscal imbalances have eroded domestic public buffers.
In this context, new tools and methods to study capital flow management, macro-prudential policies, financial stability, policy spillovers and fiscal and monetary policy coordination are high on the research agenda of many central banks in the region. The goal of this workshop is to gather ongoing research papers from central banks in the region that are incorporating these challenges into the otherwise standard modeling framework that have guided monetary policy making in the region.
The workshop will take place on October 26th and 27th in Cochabamba, Bolivia, at Universidad Privada Boliviana as part of the 8th Bolivian Conference on Development Economics www.bcde8.org.
Paper submission
Researchers members of the FSD network interested in participating in this workshop are invited to submit papers directly to mgriffa@iadb.org, before August 31st (please do not submit papers through the conference website).
Travel and accommodation
Organizers will make and cover hotel reservations (for up to 3 nights) and cover speakers' flight ticket (economy) and registration fee.
Further Information
Should you have any questions contact Cristina Griffa, technical coordinator of the FSD network, at mgriffa@iadb.org.