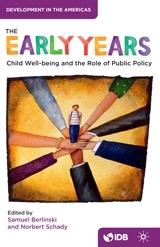 2015
The Early Years: Child Well-being and the Role of Public Policy Child well-being matters for both ethical and economic reasons as children who flourish in the early years are more likely to become healthy, productive citizens later in life.

2014
Rethinking Productive Development: Sound Policies and Institutions for Economic Transformation Anemic economic growth in Latin America and the Caribbean is in need of a post-Washington-Consensus policy shot in the arm. Unfortunately, the ghost of industrial policy casts a shadow over all efforts because it has often done more harm than good.

2013
More than Revenue: Taxation as a Development Tool More than Revenue aims to provide an up-to-date overview of the current state of taxation in the Latin American and Caribbean (LAC) region, its main reform needs, and possible reform strategies that take into account the likely economic, institutional, and political constraints on the reform process.

2012
Room for Development: Housing Markets in Latin America and the Caribbean This edition of the IDB's flagship publication, Development in the Americas, takes an in-depth look at the opportunities countries have to improve urban housing markets and pave the way for solutions that involve the private sector.

2011
Development Connections:Unveiling the Impact of New Information Technologies Policymakers and academics agree that computers, the Internet, mobile telephones and other information and communication technologies can be beneficial for economic and social development. But how strong is the impact?

2010
The Age of Productivity: Transforming Economiesfrom the Bottom Up The book provides tools to ponder productivity growth beyond conventional aggregate analysis, focusing on the extreme heterogeneity of sectors and firms while emphasizing the importance of policies that allow high productivity firms to thrive and expand.

2009
Beyond Facts: Understanding Quality of Life Using an enhanced version of the recently created Gallup World Poll, the Inter-American Development Bank surveyed people from throughout the region and found that perceptions of quality of life are often very different from the reality.