Building Climate Change Resilience and Reducing Emissions
Climate change poses serious risks to development in Latin America and the Caribbean (LAC). Changes in sea level, temperature and rainfall patterns, and the number and severity of extreme weather events affect economies and households throughout the Region.
Climate change poses serious risks to development in LAC

Already, 340 extreme weather events between 2007-2012 have caused nearly 8,000 fatalities, affected more than 37 million people, and cost the Region's economies more than US$32 billion. Mindful of the risks, many countries have started taking steps to address climate change, and the Inter-American Development Bank (IDB) has stepped up its support for development activities related to those efforts.
To structure its support, the IDB approved an Integrated Climate Change Mitigation and Adaptation Strategy in 2011. The strategy outlined five courses of action: develop instruments to mainstream climate change in IDB operations, strengthen the knowledge base for clients and staff, expand lending and technical assistance in key sectors, strengthen institutional frameworks, and scale up investments, addressing financing gaps and leveraging private sector investments.
The 26 member countries of the IDB, though they account for 7.8% of global GDP and 8.4% of the population, contribute 9.1% of the global greenhouse gas (GHG) emissions. Energy (including transportation), agriculture, land use change and forestry are the major sources of emissions. Country policies in the Region have increasingly included climate change issues. Through their policy actions, LAC countries appear committed to low-carbon energy, reductions in emissions from road transport, and forest conservation and reductions in deforestation.
Climate Change and the IDB: Building Resilience and Reducing Emissions, an evaluation by the Office of Evaluation and Oversight (OVE), assesses the IDB's efforts and results in pursuing this strategy. The evaluation analyzes and reviews lending and knowledge activities that the IDB has supported from 2004-2013 in energy, transport, agriculture and natural resources, and disaster risk management, to assess the extent to which those operations contribute to either building climate resilience (adaptation) or reducing GHG emissions (mitigation).
The IDB's climate change related portfolio has increased over the past decade
The IDB has been available to help as the region has increased its attention to climate change. As a consequence, the IDB's portfolio of projects with explicit or implicit benefits for climate change mitigation or adaptation grew from 2004-2013, though not since the strategy was approved in 2011. During this period, the total amount approved was US$20.7 billion for the four sectors mentioned above, distributed among public sector investment loans, private sector loans, policy-based loans, and technical cooperation and investment grants. Lending grew rapidly after 2007 and peaked at US$3.5 billion in 2011. It has declined to US$2.1 billion in 2013.
Climate change related lending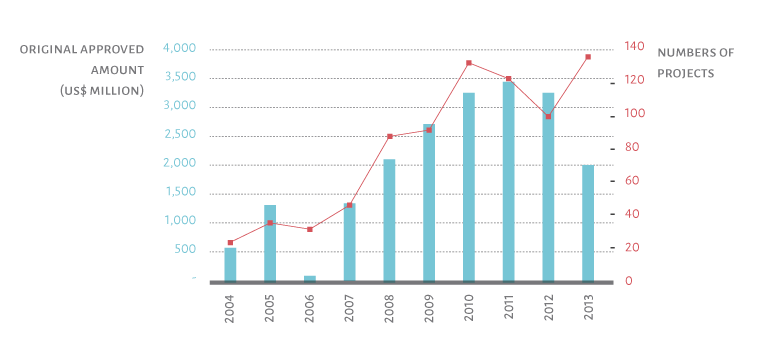 Source: OVE calculations, based on IDB Corporate Database.
The portfolio has focused more on mitigation than on adaptation. The bulk of the activity that focuses on mitigation—69% of the total portfolio—is in the energy and transport sectors. The portion of the portfolio related to adaptation (19%) is found primarily in agriculture, sustainable transport, and disaster risk reduction. The remaining 12%(mainly program-based lending for governance)has the potential to address both mitigation and adaptation.
Mitigation and adaptation loans and grants by sector and areas (original approved amounts)

Source: OVE calculations, based on IDB Corporate Database.
The IDB has made progress on achieving the objectives of its strategy, but it has more to do
While corporate, sector, and country-level strategies have begun to address climate change issues, these efforts have been uneven and rarely provide the depth of treatment needed to establish a clear vision. The organization of the IDB is evolving in ways that mainstream climate change, build technical skills, and produce knowledge products. Lending and technical support in areas related to climate change has grown, though the IDB does not yet have an effective system to track those activities. Recently, private sector engagement has also increased, as have efforts to strengthen governments' institutional structures.
GHG emission reductions were most significant in the energy sector
The energy sector accounts for 70% of the engagement on climate change, most of which has involved mitigation through efforts to reduce GHG emissions. Significant results have been achieved through hydropower expansion and rehabilitation in Bolivia, Colombia, Costa Rica, and Venezuela, for example, and the IDB has also financed 11 wind power projects and projects involving solar and geothermal power, particularly through private sector investment. OVE estimates that IDB's direct investments in renewables could mitigate the equivalent of about 2% of the Region's electricity emissions. Private sector operations supporting wind farms were faced with environmental and social challenges thereby compromising its value added.
IDB's energy financing by area of intervention, 2004-2013 (Total: US$11.74 billion, 132 loans)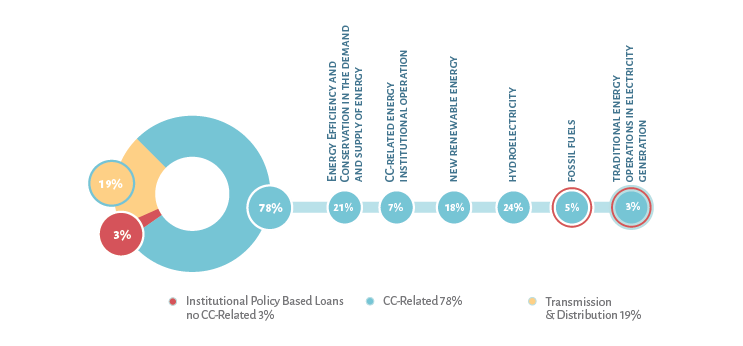 Source: OVE calculations, based on IDB Corporate Database.
IDB activities in transport have also contributed to mitigation efforts. Of 125 transport projects approved between 2004-2013, 41 have explicit or implicit climate-related objectives. These projects promote sustainable low-carbon solutions and some projects—bus rapid transit systems, metro lines, and logistics—have significantly reduced GHG emissions (for example, the Cali bus rapid transit system reduced GHG emissions by more than 40%). In the short-term, road projects have also contributed to reduced emissions, but this could change over time if induced demand is generated. These investments alone are not enough, however, and some projects have not reached their full potential for lack of complementary national policy measures.
The climate change mitigation portfolio in agriculture and natural resources, including land use change and forestry, is small (1% of the total portfolio) considering the large contribution of these sectors to GHG emissions (50% of LAC's total). While the IDB has increased its attention to mitigation through low-carbon agriculture, it has provided relatively little support in the areas of livestock or forest protection and management. Greater attention to these sources of emissions is warranted and could emerge upon implementation of the Forest Investment Program and with a more systematic approach to climate change mainstreaming.
While many projects are designed to reduce GHGs, the IDB does not have clear guidelines for measuring GHG emissions. Even in projects with explicit climate change objectives, project designs contain little information on emissions baselines or climate adaptation strategies. Monitoring systems rarely report on project contributions to addressing climate change.
Addressing climate risks and building resilience is a challenge for the IDB
The IDB and countries in the Region have only begun to think through the issues involved in climate adaptation. Attention to adaptation in the energy and transport sectors, in particular, is very recent. The IDB's strategic focus in disaster risk management and agriculture and natural resources is highly relevant to adaptation; about 40% of this work focuses on increasing the income and adaptability of the rural poor and another 37% focuses on strengthening weather and water monitoring to improve resource management. This work is relatively recent, however, and few results have been reported. IDB financing of disaster risk management activities is generally well aligned with country vulnerability levels, but climate risk assessment which is key to adaptation, has been very limited.
Adaptation loans and grants projects by sector and areas (original approved amounts)

Source: OVE calculations, based on IDB Corporate Database.
OVE finds a number of areas where the IDB can build on its progress
First, while the 2011 strategy has helped set priorities, the IDB has yet to define a clear comparative advantage in climate change. Second, mainstreaming instruments should be more widely developed and applied, particularly climate risk screening tools and climate risk assessments, and efforts couldbe expanded to measure GHG emissions in infrastructure activities. Third, IDB's organizational structure needs to ensure strong cross-sector collaboration and knowledge sharing. Fourth, as of yet there are no systems to prioritize or assess the effectiveness of knowledge generation activities or to identify and track lending needs related to climate change. Fifth, although the IDB's policy-based lending can be used to strengthen institutions, many loans do not appear to reflect a long-term commitment of governments or promote deep policy reforms. Finally, private sector leverage is still limited, and continued efforts to mobilize external resources and scale up successful efforts will be important.
The OVE evaluation makes four recommendations that build on existing practices:

Strengthen the mainstreaming of climate change initiatives by maintaining a highly qualified group whose mandate and incentives are to provide advanced technical knowledge and support to divisions in all three of IDB's operational Vice-Presidencies.

Deepen engagement in policy dialogue and operational support to address climate vulnerability through increased attention to climate adaptation in relevant sectors.

Strengthen the coordination between the IDB's public sector and private sector groups, while scaling up efforts to mobilize additional external resources.

Deepen the IDB's ability and incentives to track its activities and results related to climate change mitigation and adaptation.