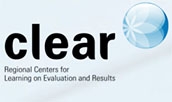 CLEAR is a collaborative effort among donors and partner countries aimed at strengthening partner countries capacities and systems in monitoring and evaluation (M&E) and performance management to support a focus on results and evidence-based decisions.
CLEAR comprises two key components:
Regional centers: support to competitively selected regional centers to provide high-quality practical and applied in-region training, technical assistance, and evaluation and advisory services;
Global learning: innovative materials and practical knowledge-exchange and peer-to-peer learning on M&E and performance management across regions on what works, what doesn't, and why.
The Office of Evaluation and Oversight supports the consolidation of the CLEAR Center for Latin America, hosted at Mexico's Centro de Investigación y Docencia Económica.
Watch the video of the inauguration of the CLEAR Center for Latin America: