{{menuBox1Holder}}
SNEAK PREVIEW: THE CEO SUMMIT OF THE AMERICAS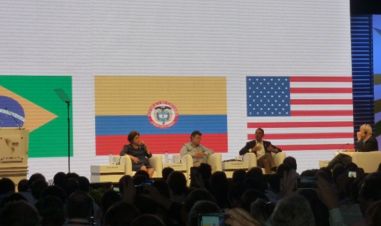 PARTNERSHIP HIGHLIGHTS: IDB ANNUAL MEETING
The IDB held its Annual Meeting in Montevideo, Uruguay from March 16-19, drawing top economic decision-makers from its 48 member countries and resulting in the following important initiatives and agreements for the LAC region:
Collaborating with Japan
One year after the Earthquake in Japan, Japan's International Cooperation Agency (JICA), the UN Economic Commission for LAC and the IDB hosted a workshop to highlight possibilities for disaster risk management
IDB and JICA agreed to invest up to $600 million in renewable energy and energy efficiency in the next 5 years." We count on the IDB's experience, knowledge and long-standing working relationship with the region to create a successful synergy in this effort to address global climate change,"said JICA Senior Special Advisor Hiroto Arakawa. Read more.
Strengthening Ties: Korea and IDB
In the context of a citizen security program, the Governments of Uruguay and Korea, the Celeste Foundation, the Real Madrid Foundation, UNESCO and the IDB committed to develop a Sports for Development program for Montevideo's underprivileged communities. Read More.
With an estimated contribution of $40 million, Korea and IDB will establish a trust fund to improve public sector capacity in LAC. Read more.
Export-Import Bank of Korea joins IDB's Trade Finance Facilitation Program. "The collaboration is a win-win for both organizations, and we hope to expand trade for new and existing players in Korea and the Latin American and Caribbean region." said Woo-taek Suh, Director General, Export-Import Bank of Korea.
China and the IDB
IDB and China Eximbank are advancing in the creation of an equity investment platform for LAC to be published in Trade Finance Magazine. "IDB and China Eximbank have undertaken this initiative to develop an investment mechanism to meet the common interests of Latin America, the Caribbean and China." said Liu Liange, Vice President of China Eximbank. Read more.
Austria: the first country to join the IDB Sustainable Emerging Cities Platform
IDB announces expansion of Emerging Sustainable Cities initiative, in partnership with the Government of Austria, the five member countries of the Nordic Development Fund and private sector partners FEMSA Foundation and the International Community Foundation to improve the quality of life in emerging cities in IDB borrowing member countries. Read more.
Mapping the Americas
IDB launches MapAmericas platform to track and visualize results of development projects. "MapAmericas is the culmination of several years of reforms that have revolutionized the way the IDB tracks its results and measures the impact of its development efforts," said Julie T. Katzman, the IDB's Executive Vice president. Read more.
Visa and beyondBanking combine soccer with financial education
VISA Inc. won the connectBanking award for its Fútbol Financiero program, a free and interactive video game that combines soccer with financial education for youths aged 11 to 18, focusing on personal finance challenges and solutions. Read more.
Partnering to control Neglected Tropical Diseases (NTDs)
Leo Messi Foundation, IDB and FC Barcelona Foundation lead campaign to prevent, control and raise awareness of Chagas disease, which still affects some 10 million people worldwide, especially in Latin America. Watch the campaign video.
Neglected Tropical Diseases are disabling, disfiguring, and deadly diseases impacting more than 230 million people in the Americas. Learn more about the unique partnership aiming to control and eliminate NTDs in the LAC region.
IDB and the Economist Intelligence Unit launch partnership
President Moreno discusses Latin America's challenges and opportunities, resilience to external shocks and new trading and investment partners in his interview with The Economist "The Latin American decade - An interview with Luis Alberto Moreno" published March 2012.
Impact Investment
IDB fuels impact investing in Latin America, having mobilized more than $110 million in the past 18th months to finance profitable projects that bring about social change. Read more.
Investor Spotlight: IDB President Luis Alberto Moreno, shares his perspective with the Global Impact Investing Group) http://www.thegiin.org/cgi-bin/iowa/investing/spotlight/376.html
Salud Mesoamerica 2015
Belize joins the Salud Mesoamerica 2015 initiative for a project that aims to reduce maternal and infant mortality among the 20% poorest, benefitting more than 30,000 young woman and children.
Major milestone in Haiti's reconstruction
A 400-house community which was financed by Food for the Poor and IDB, was inaugurated in February by Haitian President Michel Martelly. "These 400 houses we are inaugurating today reflect our vision of establishing a State that serves its people," Martelly said in a speech. Read more.
Broadband - Bridging Gaps, Building Opportunity for LAC
IDB publishes Broadband report "Bridging Gaps, Building Opportunity: Broadband as a Catalyst for Economic Growth and Social Progress in Latin America and the Caribbean", made possible by the Knowledge Partnership Korea Fund for Technology and Innovation and a wide variety of public and private sector partners. More on IDB's broadband intiative.
Denmark promotes gender equality in LAC
Denmark's Ambassador to the United States,Peter Taksøe-Jensen, signed an agreement to contribute $2.4 million to the IDB's Gender and Diversity Multidonor Fund to expand activities promoting gender equality and social inclusion in LAC. The Ambassador was accompanied on a visit to the Bank's Washington, D.C. headquarters by Her Royal Highness Crown Princess Mary, who attended the 2nd World Conference of Women's Shelters. Read more.
MAP program with Spanish General Trust Fund
IDB and the Spanish General Trust Fund under the MAP program will finance projects and research studies to improve financial and private sector development policies in Latin America and the Caribbean. Read more.
Canada to support sustainable energy in LAC
The IDB and the Government of Alberta, Canada, representated by the Hon. Alison Redford, agreed to collaborate on initiatives and programs that support sustainable energy in LAC. Read more.
| | |
| --- | --- |
| April 16-18, 2012 | |
| April 16-18, 2012 | |
| May 29th, 2012 | IDB/GIIN Impact Investing Forum, Washington D.C. |
| June 12-13, 2012 | |
| | |