After a decade looking for her first job, Sugey González has finally achieved her goal. This Dominican young woman recently started working as an attorney at a prestigious consulting firm in Santo Domingo. "It was a very tough reality, because you think you'll go straight from the university to a job and that's not how it was, because I had no work experience."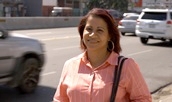 Like González, more than 220,000 people have benefitted from labor intermediation and training services of the National Employment Service of the Dominican Republic (SENAE) since October 2007. With support of the Inter-American Development Bank (IDB), SENAE has helped one out of four of its clients land a formal job in a country that currently has one of the highest unemployment rates in the region, almost 14 percent.
One of the main challenges for the country's labor market is making sure companies find qualified, suitable candidates to fill their vacancies. "On the labor demand side, we need to facilitate the creation of companies," said Rolando Guzmán, president of the Instituto Tecnológico de Santo Domingo." And on the labor supply side, we need people with appropriate skills and abilities for the needs of the companies." That is where SENAE comes in. Through its 16 regional offices, SENAE is strengthening the link between labor supply and demand by offering free job search workshops and training programs to fill the jobs available.
After attending one of these courses, Víctor Antonio Rivera, who is looking for a job, said that "there were things I didn't know about how to present my resume, the references you include, knowledge of the company, the position you want and more."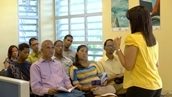 SENAE helps thousands of small companies find qualified employees, since they lack the resources to conduct the personnel selection process on their own. The employment service also organizes large job fairs for medium and large companies seeking employees with specific profiles. "It's an extremely valuable service," said Yakaira Matos, human resources manager for Supermercados Bravo. "You can put out a massive call to many people who meet the requirements you need, have organized logistics and a place to welcome these people with a good setup. Without this type of help, it would be impossible to achieve this."
González was able to avoid being one more number in Dominican Republic's unemployment statistics. Now, she is hoping that others like her can take advantage of the opportunities that helped her obtain a decent job. "Now I feel good because I have a job, and I tell myself, 'I can do it because I work.'"