Nearly one in three children under the age of five in Bolivia suffers from stunting—a result of chronic malnutrition—the second highest rate in Latin America and the Caribbean. Poverty and lack of health systems that provide the right supplements are the most commonly cited reasons for the problem, but lack of awareness and behavioral issues related to nutrition are factors as well.
A pioneering effort to change those nutritional habits is under way in Bolivia's El Alto, a city of over 1 million mostly indigenous inhabitants adjacent to the capital of La Paz and ridged with unpaved roads and houses of clay and straw. As part of the country's efforts to reduce malnutrition among pregnant women and young children, El Alto began implementing a community health agent program four years ago with support from the IDB.
The program is an experiment that could help shape the fight against chronic malnutrition by raising awareness about malnutrition among the poor in order to trigger a change in their eating habits.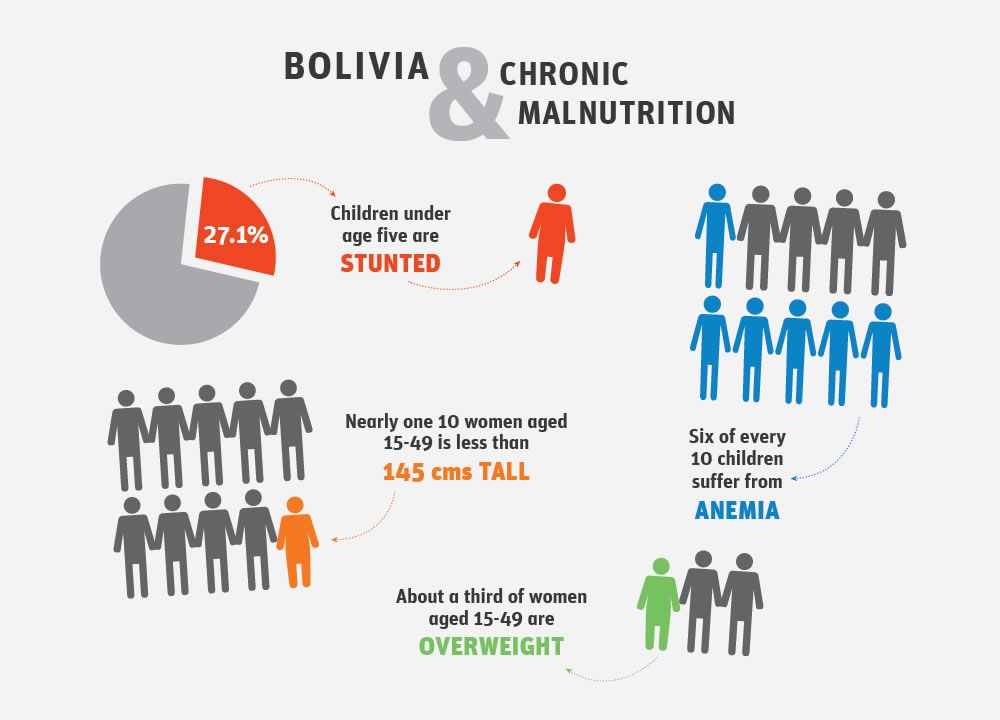 Despite the availability of affordable and nutritious foods such as Andean grains, fruits, and vegetables, many families in El Alto have poor diets based mostly on cheap carbohydrates such as rice and other starchy and fat foods. That leads not only to a high prevalence of stunting but also to increasing obesity rates, a pairing of unhealthy trends that can increase the disposition to any number of diseases.
Under the program, health agents visit homes to train mothers how to better feed their children, provide nutritional supplements, and collect key health-related indicators such as the weight and height of household members. Group cooking classes that use fruits and vegetables bought on the city's streets are also part of the intervention, as well as community meetings to provide information on nutrition, domestic hygiene, and other health-related topics.
An impact evaluation of the program showed that community health agents are a successful way to provide health and nutritional services to the targeted poor population. Moreover, it reported that pregnant women who participated in the program had changed their perceptions about nutrition and health habits.
However, greater awareness failed to trigger a change in eating habits: while more than 1,000 children under two years old whose families participated in the program were more likely to consume nutritional supplements, they did not necessarily complete the recommended doses. As a result, there was no significant impact on the level of stunting between the program's participants and the control group. The evaluation also showed that the lack of sanitation in neighborhoods of families participating in the program was a barrier to improving the nutritional status of children.
Want to learn more?

Download our Development Effectiveness Overview

Check out our blog Development that Works
The results prompted El Alto and the IDB to put together another pilot program to determine the missing link between awareness and behavioral change. Building on the positive outcomes of the first program—such as the work of the community health agents—the new program will be rolled out between 2013 and 2016 with the participation of as many as 1,000 families.
Based on successful experiences of nongovernmental organizations working in Peru and Africa, the new program will test different innovative approaches to overcoming the barriers that prevent women trained by the program from changing eating habits in their households. Role-playing exercises with key decision-makers in the household and cooking workshops based on recipes that use traditional products with high nutritional value are among the strategies being considered.
The new program is also considering the use of information and communication technologies to improve monitoring and implementation. For example, text messages could be sent to the mobile phones of mothers and caretakers to disseminate information about the program. Participants may also use their mobile phones to provide health information about their children, which would enable the program to maintain an updated database of family medical histories in order to adapt to changing circumstances and enhance effectiveness.
Not enough is known in the developing world about the most effective ways to promote behavioral changes to improve nutrition. The new program, building on the successes of its predecessor program and accompanied by a rigorous impact evaluation, will help Bolivia and other poor countries step up their efforts to tackle this daunting challenge.