A new IDB study examines successful strategies adopted by dozens of pioneering exporters of goods and services
HANGZHOU, China - Latin American companies that took a bold, early plunge into China are providing a valuable roadmap for scores of smaller firms that are eager to follow their example, according to a new study published by the Inter-American Development Bank (IDB) that explores the successful strategies used to tap one of the world's largest and most dynamic markets.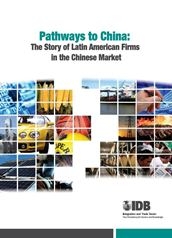 "Pathways To China: The Story of Latin American Firms in the Chinese Market," looks at the challenges of investing in China and shows how companies from the region are boosting exports and linking up with global supply chains there. The potential for growth is great: according to the study, companies from Latin America and the Caribbean (LAC) have only invested $858 million in China since 2006, less than 1 percent of total LAC investment abroad.
The special report was released on October 17, the first day of the China-LAC Business Summit in Hangzhou, China, where more than 1,200 business executives, investors and government officials gathered to explore opportunities for boosting economic ties between two of the world's fastest-growing regions. The Summit was organized by the IDB, the China Council for the Promotion of International Trade, the People's Bank of China, and the government of the municipality of Hangzhou.
"This study aims to provide a road map for companies in Latin America and the Caribbean that are contemplating expansion to China, offering them examples of successful strategies and outlining some of the challenges they can expect to face," said Antoni Estevadeordal, manager of the IDB's Integration and Trade Sector.
Trade between China and Latin America and the Caribbean has been expanding by around 20 percent annually over the past decade, thanks in large part to China's strong demand for energy, mineral and food commodities, and the region's demand for Chinese manufactured goods.
However, while China has significantly boosted its foreign direct investment in Latin America, focusing chiefly on energy, mining and agriculture – the same cannot be said for Latin American investment in China. According to the report, only a small handful of multinational companies, mostly from Brazil, Argentina, Mexico and Chile have invested there.
China has posed particular challenges to Latin American companies because of cultural and language differences, restrictions on certain investments, physical distance and the high cost of transportation. However, its large consumer market and relatively low costs, as well as the opportunity China offers foreign firms to join international supply chains based there, make it an attractive proposition.
Today, Latin American companies are selling a range of goods and services in China, from aircraft to IT services to state-of-the-art manufacturing equipment, belying the overriding commodities-for-manufacturing pattern that has characterized trade between the two regions.
The IDB studyis based on the experiences of 85 Latin American companies that have established a direct presence in China. While a few pioneers first ventured to China in the mid-1970s, interest picked up around 2000, just as trade and investment between the two regions began to expand significantly. More than half of the firms in the report's sample have entered China since 2007.
Depending on their size and the nature of their operations, Latin American companies have followed a variety of approaches to tackle the Chinese market. Two thirds of the firms established wholly or jointly owned production facilities: they include automotive parts producers, mining, steel and metallurgy firms, food and beverage producers and chemical makers, among others. A number of service providers have also set up operations to provide services ranging from IT and software to transportation, finance and consulting.
The report provides seven case studies of Latin American firms that have made major investments in China, illustrating their different strategies for tapping the complex Chinese market: from Mexico, food makers Grupo Bimbo and Gruma; from Brazil, IT service provider Stefanini, motor-manufacturer WEG and mining giant Vale; Chilean winemaker Concha y Toro; and Argentina's Tenaris, a manufacturer of tubular products for the oil and gas industry.
Prepared by specialists from the Bank's Integration and Trade Sector, the study includes contributions from Enrique Dussels Peters, an economist and expert on China-Latin American trade and investment at Mexico's National Autonomous University (UNAM), and Lourdes Casanova, an instructor at the University of Zurich's INSEAD business school and Cornell University's Johnson School of Business, author of the book "Global Latinas: Emerging Multinationals from Latin America."