Multilateral Investment Fund brings FOROMIC to Barbados
For most people, the word "Caribbean" immediately conjures up images of beaches and cruise ships. But while tourism is by far the islands' most important industry, its towns and cities are very much like most others in the world—meaning that behind those alluring vacation photographs, there are legions of business owners working hard to build micro, small, and medium-sized enterprises. And these Caribbean entrepreneurs face the same issues their counterparts elsewhere do, such as limited access to loans and equity investments, and challenges in participating in the supply chains of large companies and higher value markets.
This October, the Multilateral Investment Fund (MIF), a member of the IDB Group, is holding its 2012 FOROMIC conference in the English-speaking Caribbean for the first time. Bridgetown, the capital city of Barbados is playing host to the conference, which is the leading event focusing on micro, small and medium enterprise development in Latin America and the Caribbean, and is celebrating its 15th anniversary this year. The occasion offers a unique opportunity for the MIF to showcase some of the innovative solutions and projects being implemented in the region to support and promote entrepreneurship in the Caribbean islands.
One example is a partnership with the organization Women Business Owners Jamaica, which the MIF has helped to support since 2010. Through this project, a group of 300 women participated in a training model designed to help them grow and develop their small businesses.
Dorothea Gordon-Smith, a former president of Women Business Owners Jamaica and head of a waste management company, says that one of the program's most important aspects is access to its mentoring and networking relationships. "Jamaican women, we realized, are afraid to take the next step [in starting businesses]," she said. "We thought we would strengthen them." Access to financing, too, is a key constraint for these businesswomen. Another group member, Gale Peart, founder of a grocery shopping service, said, "[There is] a lack of creative funding... that could enhance some exciting start-up opportunities."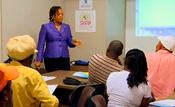 Another MIF project that will be showcased during FOROMIC is Carib-Cap, a capacity-building program for Caribbean microfinance institutions that will officially launch its second phase on the eve of the conference.
"The first phase of this regional program has already benefited over 8,500 microentrepreneurs through its support for 18 microfinance institutions," said MIF senior specialist Winsome Leslie, herself a native of Jamaica. "In the Caribbean, there are many emerging businesses that seek creative ways to grow, through diversification of products and services in response to market demand. They are dedicated to strengthening their families and communities by building strong businesses and programs, and institutions that support small business lending are crucial."
Early stage equity investment is another important element of business success that can be scarce for Caribbean entrepreneurs. The MIF is working to expand the availability of such funding in several ways, including the publication of a study carried out with Compete Caribbean on the state of impact investing in the Caribbean. IDB Executive Vice President Julie T. Katzman will moderate the conference's final plenary panel, which will feature a discussion of this report.
Above all, the central message of FOROMIC celebrates the creativity and hard work of entrepreneurs all across Latin America and the Caribbean. Barbadian businessman William Nathaniel Beckles will be honored during the conference with an award for Excellence in Local Entrepreneurship.
Beckles, founder of fitness facility Little League Gym and general merchandise shop Willimart, embodies this spirit well, saying, "I don't want to be known for the gym only, or for Willimart only. I love to be challenged. I love getting things done."
As Women Business Owners Jamaica's Gale Peart comments, dedication and innovation are the keys to successful entrepreneurship. "You will have obstacles," she says. "[But] if you are passionate, through your eyes, you will only see solutions."
Register for Foromic XV, watch live and archived streams of its panel discussions, and follow @fominbid on Twitter to learn more about these solutions. Foromic runs from Oct. 1 to Oct. 3.