Region needs to upgrade its schools, according to a new IDB study
The quality of school infrastructure significantly influences the learning of Latin American and Caribbean students, according to an Inter-American Development Bank (IDB) study of the deficiencies of the region's schools.
The study, School Infrastructure and Learning in Basic Education in Latin America: an Analysis Based on SERCE, with data from the Second Regional Comparative and Explanatory Study conducted in 2006, was based on data from a UNESCO survey that examined the performance of nearly 300 schools in each country and some 3,000 third- and sixth-grade students across 16 countries in the region.
SERCE revealed severe deficiencies in infrastructure and basic services in many educational facilities, finding considerable differences between urban and rural establishments, as well as between private and public schools. Student test scores in reading and math were lower in schools with greater needs.
While the links between school infrastructure and educational outcomes have been minutely examined in developed countries such as the United States, in Latin America there had not been sufficient data until recently to conduct a comparative analysis.
After analyzing the SERCE's information, the new study's authors concluded that improving the infrastructure of schools with the greatest needs – for example, by adding a library, a science lab, or a computer room – would help narrow the achievement gap with better equipped schools.
The impact of infrastructure on reading scores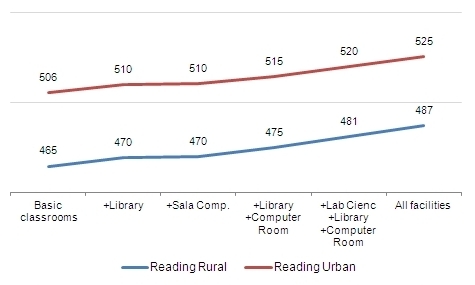 "Latin American governments have been successful in their efforts to extend school coverage," said IDB principal education specialist Jesus Duarte, one of the authors of the new study. "But now that the children are in school, we must pay attention to school buildings and their physical resources in order to improve their learning. Our study shows that much needs tobe done."
For example, improving infrastructure for students in urban schools with inadequate facilities could raise the average reading score to 525 points from 506. The average math score could rise to 524 from 497. For rural students, the average score for reading could increase to 487 from 465 and for math to 497 from 480. In SERCE tests, 20 additional points represent a quarter of the gap between insufficient and appropriate learning levels.
In urban schools, priority should be given to the construction of libraries, science labs, and computer rooms, or spaces for multiple uses. Rural schools must also overcome the absence of basic services, such as lack of access to drinking water, toilets, sanitary sewers, electricity, or telephones.
Severe shortages
SERCE's data, collected in 2006, offered a somber assessment of the state of school infrastructure in Latin America and the Caribbean. Some 88% of schools lacked a science lab, 73% had no lunch room, 65% lacked a computer room, 63% had no meeting facilities or staff offices, 40% lacked a library, and 35% had no sports facilities.
Moreover, one in five schools did not have drinking water, and two in five were not connected to sewage systems. Just over half had no telephone, and a third had an insufficient number of toilets. One in 10 schools had no electricity at all.
Infrastructure and basic servicesin Latin America schools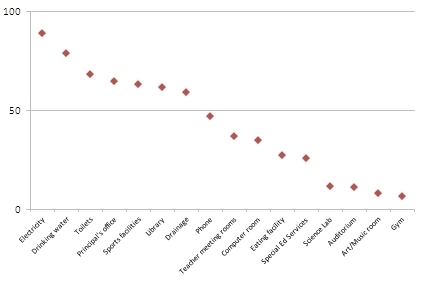 Fuente: Duarte, Gargiulo y Moreno (2011). "Infraestructura Escolar y Aprendizajes en la Educación Básica Latinoamericana: Un análisis a partir del SERCE"
By Country
Central American countries had the largest deficits, followed by Paraguay and Ecuador. In contrast, Chile, Argentina, and Uruguay had better infrastructure; Mexico, Brazil, and Colombia were in the middle.
Electricity was the most widely available public service in Latin American schools. But major gaps were found in Nicaragua, where nearly 60% of schools lacked electricity. In Peru, that deficit stood at 44%; in Panama and Guatemala, about one in three schools had no electricity.
While nearly 80% of the region's schools had access to drinking water, coverage was lower in Central American countries (again, except Costa Rica) and in Colombia, Peru, Ecuador, and Paraguay. Schools generally had poor sewage systems, but the situation was critical in Nicaragua, Paraguay, Guatemala, Peru, Panama, the Dominican Republic, and El Salvador.
Half the region's schools had no telephone. Nearly 70% lacked sufficient bathrooms. While in Cuba and Chile more than 90% of schools had computer rooms, the other countries were farther behind.
Gyms and auditoriums were rare in schools in almost all countries of the region.
Rural vs. urban
SERCE also showed a wide gap between rural and urban schools. For example, 81% of private urban schools had computer rooms, while less than 13 per cent of rural schools had such facilities.
The gap in basic services was even larger: virtually all private urban schools had access to drinking water, electricity and telephone service, while only 65% of rural schools had drinking water, 80% electricity and 17% telephone.
"These deficiencies minimize the education system's potential to mitigate or compensate for the inequities with which children come to school, since many of these shortcomings can also be found in the homes of many students," the study noted.
The IDB is supporting numerous school infrastructure projects in Latin America with the goal of improving education and child development in the region. Among the countries where it is financing investments are Argentina, Barbados, Colombia, Dominican Republic, Ecuador, Guyana and Mexico.