Countries need to improve land regulation, boost financing and mobilize private resources to increase the supply of adequate and affordable housing
Latin America and the Caribbean faces a large and growing housing deficit, which can only be addressed if governments in the region foster greater private sector investment to increase the supply of adequate and affordable housing, according to a new study by the Inter-American Development Bank (IDB).
Currently, one in three families in Latin America and the Caribbean, or 59 million people, live in dwellings that are either unsuitable for habitation or are built with poor materials and lack basic infrastructure services. As many as 2 million out of the 3 million households that spring up annually in Latin American cities are forced to settle in informal housing, such as slums, because of insufficient supply of adequate and affordable dwellings, according to the new book, "Room for Development: Housing Markets in Latin America and the Caribbean."
The book, the latest edition of the IDB's flagship publication Development in the Americas, takes an in-depth look into the housing markets of more than 18 countries in Latin America and the Caribbean and analyzes the region's regulations and policies. The study shows that Latin America and the Caribbean have a higher incidence of slums than other countries with similar income levels, a sign that the region's housing markets are failing to meet demand for formal dwellings, particularly for the low-income population.
"Our region needs to address the root cause and not only the symptoms of the housing problem. It needs to promote a well-functioning housing market and provide adequate and affordable housing with legal property titles and access to basic services so that people do not need to resort to living in slums or other informal types of dwellings,'' said César Bouillon, the coordinator of the IDB study. "A sustainable and long-term solution requires the mobilization of private resources to increase the housing supply. Governments simply cannot afford to do it alone.''
The study estimates that if the region aims to close the existing housing deficit using government housing and urban development programs alone it would need to boost investment in in public housing programs by more than seven-fold to $310 billion annually, or 7.8 percent of regional gross domestic product.
Clearly, public resources are insufficient and private investment is crucial in order to close the region's housing gaps, according to the study. In order to attract private sector investments and expand the stock of affordable housing and improve existing ones, governments must facilitate and implement incentives for mixed land development, improve regulations on land titling and mortgage financing, and explore options that go beyond home ownership to include renting and more efficient building techniques.
Housing Deficits by Country
The region suffers from both an insufficient number of houses and qualitative shortages, including dwellings with no legal titles, walls made from discarded materials such as cardboard, dirt floors and lack of access to potable water and sewage systems. Data from 18 countries show that over two-thirds of households in Nicaragua, Bolivia, Peru and Guatemala have sub-standard housing. In absolute numbers, Brazil and Mexico are the countries with the biggest housing deficits.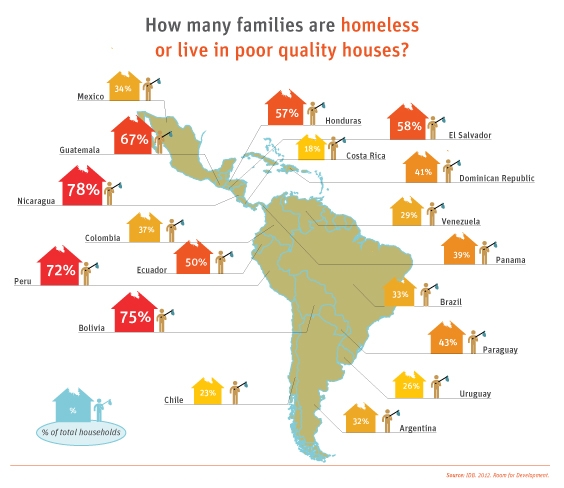 Despite advances in recent years, lack of access to basic infrastructure services continues to plague many households in the region, with 21 percent lacking electricity and sanitation. Twelve percent of households use poor construction materials, while as many as 6 percent have dirt floors and suffer from overcrowding, which can have a negative impact on health. Around 11 percent of households lack clear legal title to their dwellings.
What to do?
Currently, most of the population living in the region's biggest cities simply cannot afford or get a mortgage to pay for the purchase of the cheapest type of dwelling that can be provided by the private sector. More than half of the households in Caracas, La Paz, Lima, Buenos Aires, São Paulo, Rio de Janeiro, Mexico City, Quito and Managua cannot afford anything beyond self-constructed housing.
Governments in the region need to boost investment in key infrastructure and improve regulation to increase the provision of affordable serviced land with proper tenure security for low-income households. The study also calls for the region to enact regulations that would allow greater private sector participation in the provision of mortgage financing for low-income households. That would require changing laws and improving public agencies to provide better protection of creditor rights, improved systems for evaluating borrower risk, and more comprehensive property registries.
The authors of the study also suggest that governments should adopt housing policies that offer households greater flexibility to meet their housing needs, going beyond simply providing low-income families with outright housing grants or subsidies to buy houses.
Another option in the menu of public policies to reduce the region's housing gap is to foster the rental market for low-cost housing, paving the way for the creation of private enterprises specializing in rental units for the low-income population. That would help increase the supply of adequate and affordable dwellings and give this segment of the population greater flexibility to adapt to economic cycles since it will be easier for them to move to areas with better job prospects if they don't own a house.
Supporting the improvement of existing housing through partnerships with non-governmental organizations and private companies could also be an important solution to lower the housing deficit in the region since most of the homes are self-constructed. Because construction costs account for almost two-thirds of the sales price of a dwelling, authors also suggest countries foster greater competition among developers and encourage the adoption of more efficient and cheaper construction techniques to lower the cost of building new houses.
"There is no single solution to solve the region's housing gap. Policies must offer households more and better choices: to rent or own; to move or stay; to borrow or not; to buy or build,'' said Bouillon. "A large menu of options would go a long way toward improving the lives of millions of people and enhancing the economic and social development of our region."