Participate in Twitter using #IDBmtg
Forthcoming MIF-Bloomberg New Energy Finance report assesses the investment climate for climate change-related investment across Latin America and the Caribbean
Brazil, Nicaragua and Panama have the most suitable environment for climate-related investments in Latin America and the Caribbean, according to a preview of the Climatescope 2012, an upcoming report and index developed by the Multilateral Investment Fund in partnership with clean energy market research firm Bloomberg New Energy Finance.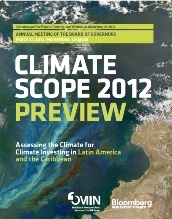 Climatescope profiles 26 countries in Latin America and the Caribbean and evaluates their ability to attract capital for low-carbon energy sources while building a greener economy. The study will measure 30 indicators to assess the climate for climate-related investments in the region.
Preliminary findings of the study will be presented during the IDB annual meeting in Montevideo, Uruguay. Brazil, Nicaragua and Panama, respectively, received the highest Climatescope scores.
Countries were ranked based on four parameters: enabling framework; clean energy investments and low carbon financing; low-carbon business and clean energy value chains; and greenhouse gas management activities.
"We expect that investors and entrepreneurs will use Climatescope to discover places where value chains, finance, and market conditions combine to reveal new business opportunities," said Nancy Lee, MIF's General Manager. "Climatescope is not intended to be solely an academic tool. Its real value will derive mostly from the new businesses and new investment it helps make possible."
In 2011, Latin America and the Caribbean attracted only 10 percent of the estimated $260 billion in new investments to new clean energy projects and companies worldwide, according to Bloomberg New Energy Finance data. Overall Climatescope preliminary results highlight considerable room for improvement for countries seeking to attract more capital for their local low-carbon energy sectors and to install more clean power capacity.
"The Latin American and Caribbean region is playing an increasingly important role in the emerging clean energy industry," said Ethan Zindler, head of global policy analysis at Bloomberg New Energy Finance. "But, given the extraordinary natural resources available and the rapidly growing demand for energy, the region has been fundamentally under-invested. Our hope is that Climatescope can provide investors, manufacturers, and policymakers with a useful guide on how best to deploy substantially more clean energy dollars in the region in the future."
The report will be accompanied by a fully interactive online tool (available at http://climatescope.fomin.org), which will allow users to adjust various assumptions in the Climatescope model to suit their needs. The data behind the report will also be available for download online.
The study was prepared by Bloomberg New Energy Finance and was commissioned by the MIF of the Inter-American Development Bank Group. The official launch of the report will take place on June 19, 2012 during the Rio+20 United Nations Conference on Sustainable Development in Rio de Janeiro, Brazil.