The international community provided the Central American countries about $490 million for activities to prevent and combat violence in the past three years, according to a study published by the Inter-American Development Bank (IDB) and the Washington Office on Latin America (WOLA).
The study aims to facilitate coordination between governments and donors and improve the impact of investments. "With this study, the international community can achieve synergies and collaboration to more effectively support Central America in the fight against violence and crime," said Ana Maria Rodriguez, the IDB's Manager of Institutional Capacity and Financial Sector.
Of these resources $320 million, or 65 percent, was directed to institutional strengthening programs, $96 million to violence prevention efforts, $64 million to fight organized crime and $7 million for rehabilitation and social reintegration programs.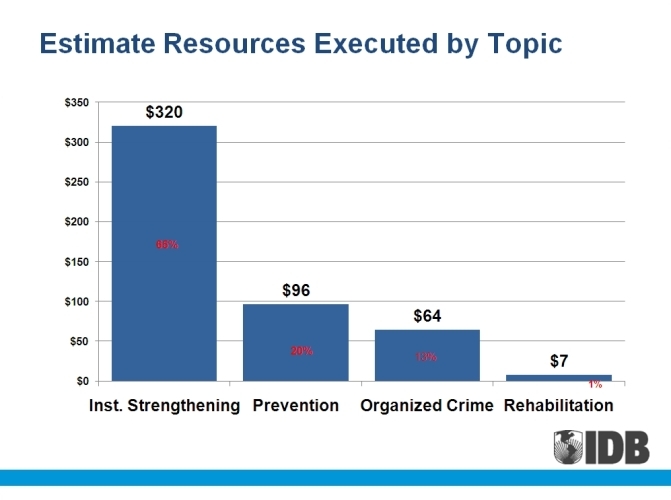 About 83 percent of the $406 million total consisted of grants and donations from the international community, while the balance consisted of loans.
These resources account for more than a third of the $1,335 million that the international community has pledged to these countries for citizen security and public safety programs work in the last three years. The balance, or about $850 million, is available but has not been disbursed.
The study points out that only a quarter of the available funds available are planned for regional projects, despite the fact that organized crime is transnational by nature.
Based on the resources that have been committed in these three years, the main donors to Central America are the United States ($377 million), the IDB ($275 million), the World Bank ($140 million), Spain ($128 million), the European Union ($112 million) and Germany ($91 million).
The IDB contribution focuses on the following areas: $116 million for institutional strengthening, $100 million for prevention and $59 million for rehabilitation and the rest for efforts to combat organized crime.
The study is part of the analytical work done in preparation for the International Conference in Support of the Central American Security Strategy, to be held in Guatemala this week. The event will include the participation of presidents from every Central American country plus Mexico and Colombia, U.S. Secretary of State Hillary Clinton and numerous representatives of the international community. The event is organized by the Central American Integration System (SICA).
IDB President Luis Alberto Moreno, who will participate in the conference tomorrow, will share his vision for a coordinated, complementary and international strategy to combat violence in the region, while highlighting the need for regional programs.