SAN SALVADOR, El Salvador– Mauricio Funes, the President of El Salvador, and Salvadoran First Lady and Minister of Social Inclusion Vanda Pignato today inaugurated the first "Ciudad Mujer" service center in Lourdes, part of Colón municipality in the department of La Libertad.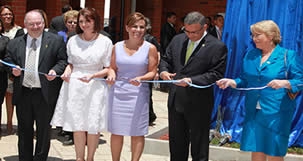 Also participating in the event were Michelle Bachelet, Executive Director and Under-Secretary-General of the United Nations Entity for Gender
Empowerment and the Equality of Women, and Marta Linares de Martinelli, First Lady of Panamá.
El Salvador's Ministry of Social Inclusion plans to build several centers throughout the country. In the second quarter of this year, the IDB Board of Directors is expected to consider a proposal for a loan to finance six of the centers.
Ciudad Mujer centers will offer a variety of essential social services for women under a single roof, thereby enabling women to have one-stop access to health, job training, physical abuse and other services. The centers will also provide daycare services for visiting women's children.
"We think Ciudad Mujer promises to become a model for other countries," said IDB President Luis Alberto Moreno. "Concentrating public services in 'one-stop' centers makes it possible to improve inter-institutional coordination and enhance the quality services."
Also participating in today's inauguration were Rodrigo Parot, the IDB's representative in El Salvador, and Andrew Morrison,
chief of the Bank's Gender and Diversity Unit. "Beyond its benefits in reducing poverty and stimulating growth, promoting women's rights is an essential element for consolidating democracy," Morrison said.
Each Ciudad Mujer center will offer women integrated solutions to a range of problems, thereby eliminating the need to visit multiple institutions in different locations. This will save time and travel costs for beneficiaries, reducing barriers to access.
The IDB's technical assistance in the project is expected to include a rigorous monitoring and evaluation plan designed to improve the delivery of services offered by Ciudad Mujer over time and thereby maximize their impact.
Gender equity is a central priority in the IDB's work. In November 2010 the Bank approved a new Gender in Development Policy, which it will launch and begin to implement in early April of this year. Pignato and Bachelet will also participate in that launch, which will take place at IDB headquarters.