Support for fast-growing cities of 100,000 to two million people that seek sustainable solutions in areas including transport, energy, waste, climate change and fiscal management
CALGARY, Canada - Inter-American Development Bank President Luis Alberto Moreno today announced a plan to partner with intermediate cities in Latin America and the Caribbean that aspire to set a new standard for sustainable urban development.
The plan would help cities analyze their development challenges in an integrated manner, prioritize investments, and identify funding from national and international sources.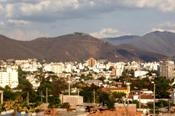 There are more than 140 fast-growing cities in Latin America and the Caribbean with populations between 100,000 and 2 million people. Typically located near agricultural or manufacturing centers, these cities are growing two to three times faster than the region's megacities. At that pace, these cities will double in size in just 20 years. Over three quarters of Latin American and Caribbean citizens already live in urban areas.
"We all know what happened in Latin America when we combined rapid growth with poor planning, lack of financing for infrastructure, and little regard for environmental and climate issues," Moreno said. "No one wants today's emerging cities to become tomorrow's crowded and unhealthy megacities."
Moreno said the goal of the Sustainable Emerging Cities platform is to help emerging cities avoid the mistakes of the past by crafting comprehensive plans that will harness sustainable solutions to housing, transportation, water and energy use, public services, and related areas.
A key part of the challenge will be adopt fiscal management practices that enable cities to finance such plans with a combination of local and central government revenues. The platform will also promote citizen participation in decisions about planning and budgets, along with measures to enable communities to monitor the outcome of public investments.
Under the plan, the IDB will initially partner with a small number of emerging cities to develop and test instruments that will subsequently be offered to a larger number of cities in the region. The Bank will offer consulting resources and technical support designed to expedite the process of analysis, diagnosis, prioritization and design of projects in an integrated manner.
Participating cities will be able to capitalize on the IDB's deep expertise in sustainable urban development. Over the past 30 years the Bank has directed billions of dollars to projects in areas such Bus Rapid Transit, affordable housing, energy efficiency, fiscal reform, water supply, low-income neighborhood improvements, downtown revitalization, municipal governance, and climate change adaptation.
Best practices from these projects will be tailored to the particular needs of emerging cities in Latin America and the Caribbean, contributing to the global movement toward cleaner, less carbon-intensive models for urban development.
"Making smarter use of local resources can help us tackle global problems like climate change, providing lessons that can be applied in emerging cities in other parts of the world," President Moreno said.